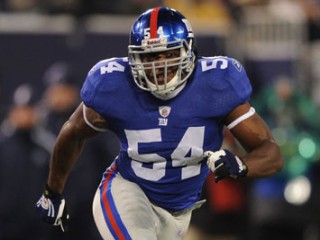 The GIANTS and the Hospital for Special Surgery must have some kind quota to hit this season. Dan Graziano from ESPN reports the following:
Multiple reports have surfaced Tuesday afternoon that Jonathan Goff, the Giants' starting middle linebacker, has a torn ACL and will miss the entire 2011-12 season. ESPN's Adam Schefter reports via Twitter that the team is planning to sign former Giants linebacker Kawika Mitchell to replace him.
The amount of injuries is simply amazing. I do not want to here that it is because of the lockout. Injuries happen, but this is getting to the point of being ridiculous.
I do not know how I feel about bringing in Kawika Mitchell. He is past his prime in my opinion. I'm still hung up on Maybin. However, at this point we need bodies! More playing time for Herzlich!