Round One: Hakeem Nicks (WR) UNC
Age: 21, Junior
6'1 210lbs
40 Yard Dash: 4.49
Vertical Jump: 37.9
Career Best: (2008) Receptions: 68 Yards: 1,222 Touchdowns: 12
Career Numbers: Receptions: 181 Yards: 2,840 Touchdowns: 21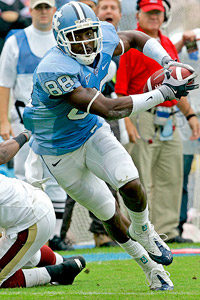 Nicks was an excellent selection at this point. With trade talks falling through with the Browns the Giants followed their board and picked arguably the most Pro ready receiver in the draft. Nicks is an exceptional player and plays a game similar to that of Anquan Boldin. He has huge hands and can make that flashy catch. One of his best traits is his ability with the ball after the catch; he seems to never leave yards on the field. The bigger the game the bigger this kid plays. He dominated West Virginia in his bowl game this year tallying up 8 receptions for 217 yards and 3 touchdowns (while making one of the most amazing catches of the year in the process). [Nicks-All Star Challenge ]
2009 Outlook: Nicks will get the opportunity to compete for a starting role with the departure of former starting wideouts Amani Toomer and Plaxico Burress. It's hard for receivers to make the transition from the college game to the Pro's, but Nicks' play style/route running knowledge/and hard work could make the transition much easier (ala Anquan Boldin's rookie season)
……………………………………………………
Round Two (Secection 1): Clint Sintim (OLB) Virginia

Age: 23, Senior
6'3 254lbs
40 Yard Dash: 4.80
Broad Jump: 9'11
Career Best: Tackles: 79 (2007) Sacks: 10 (2008) Forced Fumbles: 2 (2007)
Career Numbers: Tackles: 246 Sacks: 26 Forced Fumbles: 3 Sintim gives the Giants something they LOVE: a passrusher. Leading the ACC in sacks in 08′, Sintim was one of the best pass rushers in the draft. He possesses ideal height and size for the position and he looks the part with his thick muscular physique. The 3-4 college outside linebacker looks to make the transition to SAM backer with the Giants. Sintim wasn't used much in coverage at Virginia, and that will probably stay the same while he plays with us as we exploit his best ability as a passrusher. He's a tough player with no know off the field issues.
2009 Outlook: Sintim looks to be used as a situational rusher on passing situations. His versatility allows us to blitz him as a linebacker from the SAM position, or with his hand on the ground at defensive end. He joins one of the most feared pass rushing units in the league which includes Justin Tuck, Osi Umenyiora, Chris Canty, Fred Robbins, Mathias Kiwanuka, Michael Boley, Rocky Bernard and now Clint Sintim. Scary.
—————————————-
Round Two (Selection 2): William Beatty (OT) UCONN

Age: 24, Senior
6'6 310lbs
40 Yard Dash: 5.12
Broad Jump: 8'11
Vertical Jump: 33.5
Cone: 7.63 Most projections had Beatty going late first-early second, the Giants got great value with Beatty at 60th overall. He is a very athletic tackle and has good upside. He needs to be more physical at the next level, but he has time to develop and learn behind David Diehl and Kareem Mckenzie.
2009 Outlook: Beatty provides us with excellent depth at the tackle position for the upcoming season. The only way he sees the field in the regular season would be do to injury. But he could start as early as 2010, if the Giants want to slide Diehl inside and put Beatty at LT.
————————————————
Round Three (Selection 1): Ramses Barden (WR) Cal Pol

Age: 23, Senior
6'6 229lbs
40 Yard Dash: 4.57
Bench: 17
Career Best: Receptions: 67 (2008) Yards: 1,467 (2007) Touchdowns: 18 (07/08)
Career Numbers: Receptions: 206 Yards: 4,203 Touchdowns: 50 Ramses Barden is a very intriguing prospect. He is a HUGE target that absolutely dominated his low level of competition. Barden also has adequate speed to go with his impressive size. He has great leaping ability, and runs fades routes so naturally. Like Nicks, Barden also possesses a huge pair of mitts to go along with his impressive ball skills. He makes tough one handed grabs and just plucks the ball from the air. The hardest thing for Barden will be beating the press and gaining separation at the next level. [Barden - All Star Challenge]
2009 Outlook: Jerry Reese has stated he thinks Barden could contribute as a "green zone" threat early in his career as he adjusts to the next level. He faces tough competition for playing time though with the likes of Steve Smith, Domenick Hixon, Mario Manningham, Hakeem Nicks, Sinorice Moss, and David Tyree battling it out for roster positions.
——————————–
Round Three (Selection 2): Travis Beckum (TE/H-Back) Wisconsin

Age: 22, Senior
6'3 243lbs
40 Yard Dash: 4.61
Bench: 28
Vertical Jump: 38.5
Broad Jump: 9'10
Career Best: Receptions: 75 (2007) Yards: 982 (2007) Touchdowns: 6 (2007)
Career Numbers: Receptions: 159 Yards: 2,149 Touchdowns: 11 Beckum is another very intriguing prospect. Before getting injured this season he looked like on of the best receiving threats in the nation, and a sure fire first day selection. He possesses tremendous receiving ability in every aspect. Although his blocking is suspect, and he needs to be moved around on offense and used more as a H-Back rather than a TE. Beckum had an excellent junior season, and it was believed that if he had left then he would have been selected before former first round draft choice Dustin Keller (New York Jets).
2009 Outlook: I can see Beckum having a pretty significant impact in the receiving game next year. It will be on Kevin Gilbride to develop a set of plays that utilizes his talents. Jerry Reese believes Beckum will be a huge asset for Eli late in the season when the wind is swirling in the Meadowlands.
————————————————————-
Round Four: Andre Brown (RB) NC State

Age: 22, Senior
6'0 224lbs
40 Yard Dash: 4.49
Bench: 24
Vertical Jump: 37
Career Best: (2008) Attempts: 175 Yards: 767 Touchdowns: 7 Receptions: 29 Yards: 309 Touchdowns: 2
Career Numbers: Attempts: 523 Yards: 2,539 Touchdowns: 22 Receptions: 70 Yards: 631 Touchdowns: 2 Brown is a big tough runner with excellent speed for his size. He has a very tall and thick upper/lower body. Drives legs on contact (as seen in the picture) and lowers his pads to run over tacklers. Holds his own in pass protection when called upon. Also has been productive as a receiver. Brown played behind a marginal Offensive line in a rotation in 08′, he looks to be a much better Pro than college player.
2009 Outlook: Brown has loads of upside and skill but he is trapped behind three solid running backs in Brandon Jacobs, Ahmad Bradshaw, and Danny Ware. Jacobs is locked in as the number one guy, Bradshaw and Ware will battle it out for the number two role, and the loser of that battle figures to be third on the depth chart. Brown most likely wont see the field much as a rookie other than on special teams (bearing injury of course).
————————————————-
Round Five: Rhett Bomar (QB) Sam Houston State

Age: 23, Senior
6'2 225lbs
40 Yard Dash: 4.82
Bench: 25
Cone: 6.91
Career Best: Yards: 3,405 (2008) Completion %: 59.1 (2007) Touchdowns: 27 (2008)
Career Numbers: Yards: 7,632 Completion %: 56.5 Touchdowns: 47
The Giants didn't "need" a quarterback in the draft, but when Rhett Bomar was still sitting there in the 5th round it was just to much value to pass up on. Bomar originally began playing college ball at Oklahoma but the five star recruit was kicked of the team and he transferred to Sam Houston State. He has great height/size and looks the part of an NFL quarterback. He was nice arm strength and athletic ability. Bomar has all the tools and he made the most out of what he had at Sam Houston. He's a fiery competitor that needs to grow up and mature if he hopes to be in command of an NFL huddle.
2009 Outlook: Eli Manning is the starter. David Carr is the backup. Bomar's chance to make the team would be if the team carries three QB's, and he beats out last years sixth round pick Andre Woodson in a training camp battle. Otherwise it's practice squad or bust for Bomar. I like his chances to stick around, most likely on the practice squad in 2008.
——————————————————————-
Round Six: DeAndre Wright (CB) New Mexico

Age: 23, Senior
5'11 193lbs
40 Yard Dash: 4.59
Bench: 17
Vertical Jump: 34.5
Broad Jump: 10'2
Career Best: Yards: Tackles: 47 (2006) Interceptions: 4 (2006) Sacks: 4 (2005)
Career Numbers: Tackles: 162 Interceptions: 10 Sacks: 4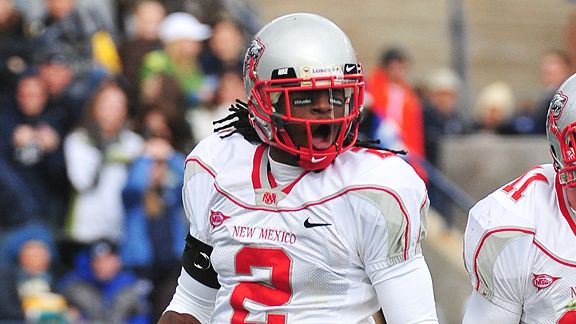 Giants scout Steve Malin really liked Wright, and Malin holds some weight in New York's war room so that had some influence on this selection. Wright is a good sized corner but has below average speed. He is a sure tackler that can make plays on the ball
2009 Outlook: Look for Wright to compete for the fifth corner spot, or even at strong saftey. Otherwise its PS or bust for him.
—————————————————
Round Six: Stoney Woodson (CB) South Carolina

Age: 23, Senior
5'11 196lbs
40 Yard Dash: 4.53
Bench: 15
Vertical Jump: 33.5
Broad Jump: 9'3
Woodson is pretty similar to Wright in size speed and ability. He faces an uphill battle to make the roster as a Cornerback.
—————————————————————————
Early 2009 Roster Projection:
QB: Eli Manning, David Carr, Andre Woodson
RB: Brandon Jacobs, Ahmad Bradshaw, Danny Ware, Andre Brown
FB: Madison Hedgecock
WR: Domenick Hixon, Hakeem Nicks, Steve Smith, Mario Manningham, Ramses Barden, Sinorice Moss
TE: Kevin Boss, Travis Beckum, Darcy Johnson
OT: David Diehl, Kareem Mckenzie, William Beatty, Guy Whimper
OG: Chris Snee, Rich Sueburt, Kevin Boothe, Adam Koets
OC: Shaun O'Hara
DE: Justin Tuck, Osi Umenyiora, Mathia Kiwanuka, Robert Henderson
DT: Fred Robbins, Chris Canty, Barry Coefield, Rocky Bernard, Jay Alford
OLB: Michael Boley, Brian Kehl, Danny Clark, Clint Sintim, Zak DeOssie
MLB: Antonio Pierce, Chase Blackburn, Jonathan Goff
CB: Corey Webster, Aaron Ross, Terrell Thomas, Kevin Dockery, DeAndre Wright
S: Kenny Phillips, Michael Johnson, C.C. Brown
K: Lawrence Tynes
P: Jeff Feagles