Eli Manning, Odell Beckham Jr. Push For Ben McAdoo As Giants New Head Coach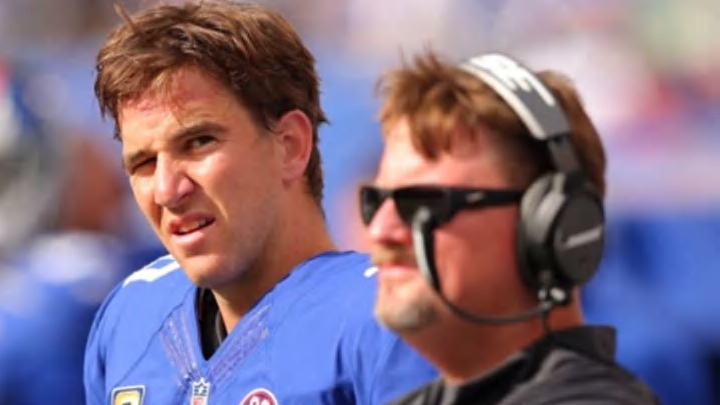 Sep 14, 2014; East Rutherford, NJ, USA; New York Giants quarterback Eli Manning (10) and offensive coordinator Ben McAdoo react during the fourth quarter against the Arizona Cardinals at MetLife Stadium. The Cardinals defeated the Giants 25-14. Mandatory Credit: Brad Penner-USA TODAY Sports /
Tom Coughlin's exit from the New York Giants yesterday was not a surprise to many onlookers. After a fourth-straight season missing the playoffs, the writing was on the wall and a change needed to be made. Many players expressed their wishes for Coughlin to stay and thanked him for his support after his departure. But now a few players, big players, have expressed an opinion on who they might prefer to be the two-time Super Bowl Champion's successor.
Eli Manning had one of his best statistical seasons to date with a career-high passer rating of 93.6 and 35 touchdowns under his belt. Manning said a change from Coughlin, who has been his head coach since he was a rookie, wouldn't be ideal but he could handle it. Well, a change was made and apparently Manning thinks he could handle it best with McAdoo.
Jan 3, 2016; East Rutherford, NJ, USA; New York Giants quarterback Eli Manning (10) prior to the game against the Philadelphia Eagles at MetLife Stadium. Mandatory Credit: Jim O /
On his relationship with his OC, he said, "I think we've done good things and I feel very comfortable, I think we work well. Last year it was tough. It was a lot going on and very new and trying to learn, but I bought into it because I trusted him, trusted the offensive staff and felt great this year about what we were able to do offensively, scored a lot of points, moved the ball well, and have great respect for all of our coaches."
When asked what he thought about McAdoo as a prospect for Coughlin's vacancy, Manning told WFAN, "I think that's a possibility." Manning also made an interesting comparison. "I think there are some similarities between him and coach Coughlin and their passion for football." Ownership loves continuity and ties to the Giants organization and Manning was not so subtle with his preference to stay the course.
Odell Beckham Jr also had some feelings on continuity and rightfully so. OBJ just broke Randy Moss' record for most receiving yards by a player in his first two seasons. He did so in Ben McAdoo's offense even while only playing 12 games in his rookie campaign and missing a game to suspension in 2015. Beckham said on Monday that "it would be difficult" to have an entirely new system with a new coaching staff. "It would take time to readjust,'' he said.
It's not difficult to comprehend why a 35-year old quarterback wouldn't want yet another playbook to learn when his stats have never been better. And of course, a 23-year old star receiver would want to keep adding to his record-breaking numbers at a lightning-fast pace as well. If the ownership was looking for an opinion from their franchise guys, which is not a guarantee, they may have just gotten one.