Lovie Smith Fired In Tampa Bay, Should Be A Candidate For New York Giants Head Coach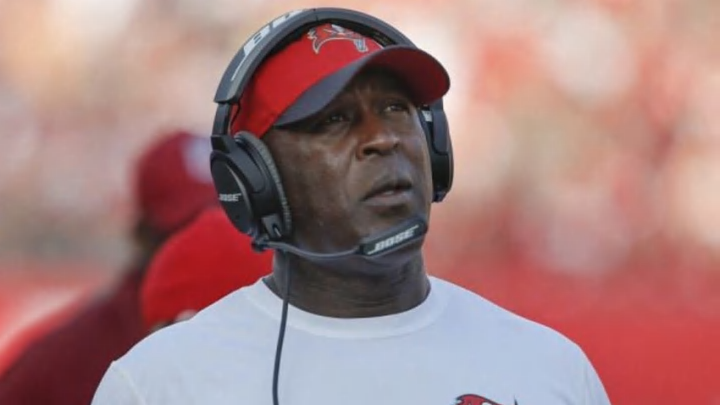 Dec 13, 2015; Tampa, FL, USA; Tampa Bay Buccaneers head coach Lovie Smith looks at a replay during the second half against the New Orleans Saints at Raymond James Stadium. The New Orleans Saints won 24-17. Mandatory Credit: Reinhold Matay-USA TODAY Sports /
The Tampa Bay Buccaneers surprisingly axed Lovie Smith after just two seasons as their head coach. Actually, in this coaching climate, it's can't be surprising that any coach be let go, especially one with an 8-24 record during his two-year tenure. However, he was not a coach considered to be on the "hot seat" by most pundits.
Whoever takes over for as head coach for the Bucs will be taking over a team that's trending upward. With a rookie quarterback entering his second year and a top-ten defense, they could make a run at the NFC South next year if not for the Carolina Panthers.
As for the New York Giants, they will likely add Lovie to this list of candidates they bring through the building for interviews. Their list thus far, after Sean Payton decided to stay with the Saints, consists almost entirely of coordinators. Smith is a proven head coach despite his latest stint with the Buccaneers. He was head coach in Chicago from 2004-2012, had five winning seasons there and took the Rex Grossman-led Bears to the Super Bowl.
Smith has a level of experience that no one on the "official" list of potential candidates has. Lovie was even a candidate for the job that Tom Coughlin eventually held. According to the New York Daily News, Smith "dazzled" the Giants' front office during his interview. There's also a potential that Smith may keep McAdoo in place as offensive coordinator as he is a former defensive coordinator and not an offensively-minded head coach.
One question that he will have to answer for is his record in Tampa Bay. He took over for a 4-12 team and they went backwards. With the no. 1 pick in the draft, they selected Jameis Winston and Smith hired Dirk Koetter as offensive coordinator to groom their new franchise quarterback. Koetter did a fine job with Winton in his rookie season and was considered for the head coaching vacancies in Miami and Philadelphia. So, it may be that Lovie was fired to promote Koetter to head coach and keep their current offense in place for Winston.
While it may not be "surprising" that Smith was fired, it would be surprising if the Giants didn't bring him in for an interview at some point during their extensive search. The Giants are interviewing Lions defensive coordinator Teryl Austin and current DC Steve Spagnuolo today.