New York Giants: Odell Beckham Fined For Verbal Abuse Of Official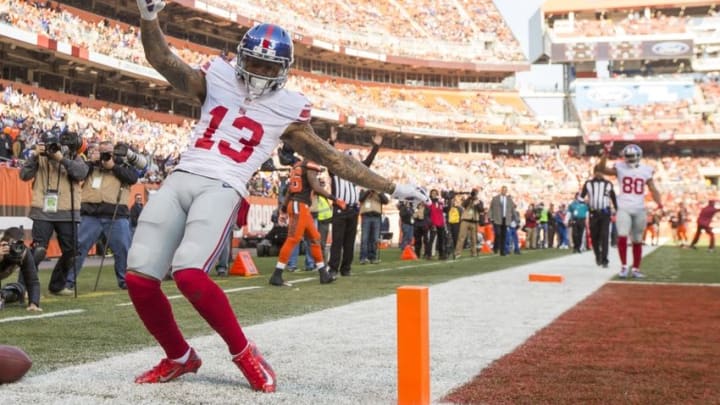 Nov 27, 2016; Cleveland, OH, USA; New York Giants wide receiver Odell Beckham (13) celebrates his touchdown run against the Cleveland Browns during the second quarter at FirstEnergy Stadium. Mandatory Credit: Scott R. Galvin-USA TODAY Sports /
New York Giants wide receiver Odell Beckham Jr. has been fined for verbal abuse of an official. It's unrelated to his post-game comments about Terry McAulay.
---
The New York Giants have been able to rely on Odell Beckham Jr. for three things in 2016. The first is awe-inspiring plays, the second is elite production, and the third is an unfiltered passion that shines through on the field, on the sidelines, and at the podium.
Unfortunately, Beckham's passion has cost him following his clash with Terry McAulay's crew during the Giants' Week 13 loss to the Pittsburgh Steelers.
Beckham has come under fire on multiple occasions in 2016, with all criticism seeming to pertain to his passion and energy. From his infamous spat with a kicker's net to his brutal honesty in post-game settings, Beckham has either won your fandom or alienated you entirely.
According to Tom Pelissero of USA TODAY Sports, Beckham has been fined $12,154 for verbal abuse and excessive profanity towards an official.
"New York Giants star Odell Beckham Jr. was fined $12,154 for verbal abuse/excessive profanity towards a game official after last weekend's loss to the Pittsburgh Steelers.The fine is not related to Beckham's postgame criticism of officials, including saying that referee Terry McAulay's crew should be banned from working future Giants games. It wasn't immediately clear if Beckham also was fined for those remarks to reporters."
The best thing Beckham can do from hereon out is to keep his cool and understand that the NFL is waiting for him to slip up.
The Giants need Beckham to leave whatever anger he may have at home and channel his passion towards beating the Dallas Cowboys. New York is 8-4 and in control of its own destiny, but it's far from guaranteed that Bob McAdoo and Co. are going to make the playoffs.
Beckham is one of the players who will play a definitive role in whether or not the Giants make good on their postseason potential.
Through 12 appearances, Beckham has recorded 75 receptions, 1,015 receiving yards, and eight touchdowns. He's No. 4 in the NFL in receptions and receiving touchdowns, and No. 5 in receiving yards.
This Sunday, Beckham will look to silence those who believe Dez Bryant is still his superior by helping New York win its third straight game over Dallas.
Must Read: Players who need to step up against Dallas
A focused Beckham is an unstoppable Beckham. That's who the Giants need.