New York Giants: 15 best free agent acquisitions of all-time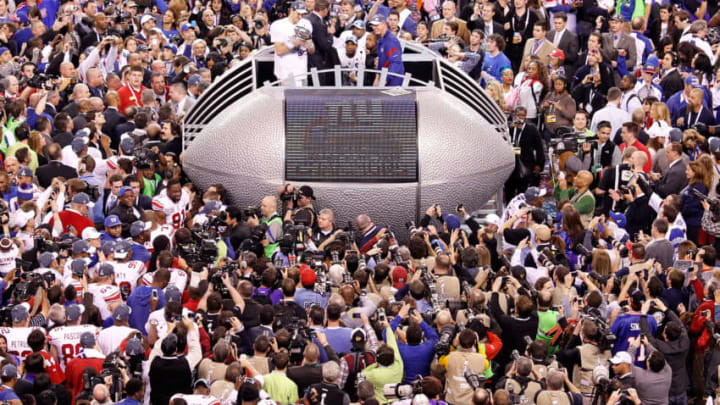 New York Giants. (Photo by Joe Robbins/Getty Images) /
Plaxico Burress, New York Giants. (Photo by Travis Lindquist/Getty Images) /
Caught game-winning touchdown pass in Super Bowl XLII
Had 33 touchdown catches in 57 games with Giants
Accumulated 1,214 receiving yards in 2005
Caught 12 touchdown passes in 2007 regular season
Plaxico Burress didn't seem like a great fit for the Giants when he signed after five seasons with the Pittsburgh Steelers. Those who predicted the marriage wouldn't last, were ultimately proven correct, but not before a Super Bowl ring was secured.
The mercurial Burress directly led to the team's Super Bowl XLII upset of the undefeated New England Patriots with his catch of a 13-yard touchdown pass from Eli Manning with less than one minute left in the game.
It was truly an iconic moment for Big Blue in the Arizona desert. Less than 10 months later, Burress was a Giants goat, and not the greatest-of-all-time variety either. A self-inflicted gunshot wound, sustained at a New York nightclub, derailed the 2008 Giants and his own career.
Per ESPN:
""The perfect storm of a public figure violating New York's stringent gun laws made for a high-profile case that even had the mayor pushing for strict prosecution. The self-inflicted wounds turned Burress' life upside down and ended his Giants career. After the incident. he caught a total of 48 passes with the Jets (2011) and Steelers (2012).""
The franchise was seriously chasing a repeat title, for the first time arguably ever. After going 11-1 through November, the Burress incident happened, and the Giants limped to a 1-3 finish. The team petered out in the first round of the NFL playoffs by 23-11 score to the hated Philadelphia Eagles.
Even though the Burress shooting incident left a bad taste in the mouths of Giants fans for years, keep in mind that Big Blue doesn't win their third Super Bowl title without him. For that reason, he garners the No. 1 position on this list.