New York Giants: 15 best free agent acquisitions of all-time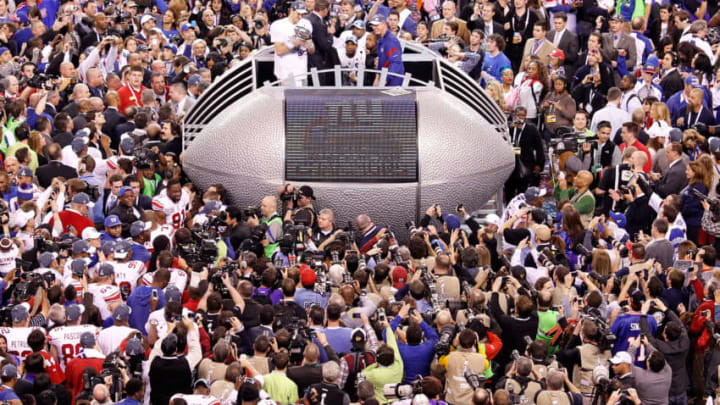 New York Giants. (Photo by Joe Robbins/Getty Images) /
Jeff Feagles, New York Giants. (Photo by Kevin Casey/NFLPhotoLibrary) /
Selected to the Pro Bowl at age-42 while with Giants
 Member of Super Bowl XLII championship team
Most punts in NFL history (1,713)
NFL record for most consecutive games played in a career (352)
It speaks volumes that a specialist makes this list of notable Giants free agent pick-ups, but there are several factors to weigh in favor of Jeff Feagles. First and foremost, Feagles played in 352 consecutive games, which is an NFL record.
And exactly how long did Feagles play in the NFL? Well, this little tidbit gives you an indication.
Per ESPN:
""Ronald Reagan, George W. Bush, Bill Clinton, George H.W. Bush and Barack Obama — Giants punter Jeff Feagles has played his NFL career throughout all of their presidential administrations, but it looks as if it will end with the 44th Commander-In-Chief.""
According to Pro Football Reference, he played in 112 games for the Giants – starting in 2003, and ending with his retirement on April 30, 2010. For his career, Feagles average was 41.6 yards per punt. As a Giant, he averaged 41.2 yards per punt.
One word sums up his Giants and NFL career – steady. Super Bowl-winning head coach Tom Coughlin loved his veteran specialists, and Coughlin especially loved having Feagles around. After his retirement in 2010, Big Blue brought in rookie Matt Dodge with disastrous results (remember the Miracle in the Meadowlands II).
Also, Feagles was a key performer on the Super Bowl XLII team, as he also served as kicker Lawrence Tynes' holder for field goals. Feagles was a key part of the process when Tynes kicked a 47-yard game-winning field goal in the NFC Championship game in 2008. His hold on the frozen tundra of Lambeau Field was spotless.
As an aside, Feagles was the ultimate team player, as he changed his number twice – to accommodate quarterback Eli Manning and wideout Plaxico Burress.