New York Giants: 15 best free agent acquisitions of all-time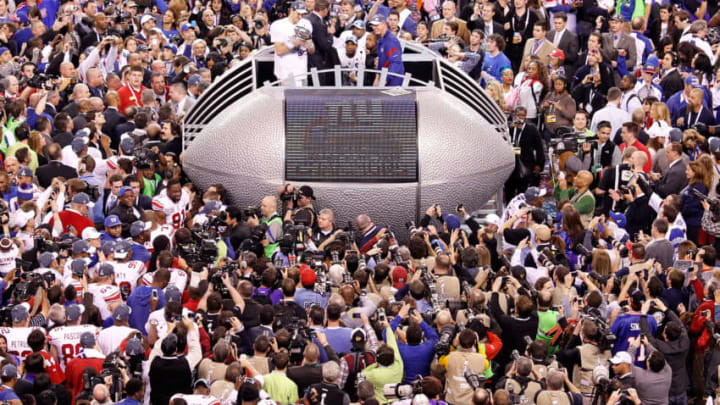 New York Giants. (Photo by Joe Robbins/Getty Images) /
Jim Burt, New York Giants. (Photo by George Rose/Getty Images) /
Member of University of Miami Sports Hall of Fame
Selected to Pro Bowl in 1986
Member of Super Bowl XXI championship team
Knocked out Joe Montana in 1986 NFL playoffs
Lawrence Taylor, Harry Carson, Carl Banks and Leonard Marshall were the stars of the Big Blue Wrecking Crew defense of the 1980s, but unheralded Jim Burt was the heart and soul of the unit.
Burt went undrafted out of the University of Miami in 1981. No one expected him to make the Giants roster, let alone become an NFL starter. In fact, Burt wasn't just an NFL regular, he attained Pro Bowl status in 1986.
As a nose tackle, Burt's job was to cause havoc, and he was great at his job. In fact, Burt knocked San Francisco 49ers quarterback Joe Montana out of the playoffs with a crushing hit in the 1986 NFL playoffs. The Giants cruised to 49-3 victory over the powerful 49ers.
The former Hurricane played 93 games for Big Blue with 71 starts. Burt was part of the Super Bowl XXI winning squad before retiring prematurely in 1988.
The gritty nose tackle wasn't done in the NFL and made a comeback with the 49ers, where he won another title with the Super Bowl XXIV squad. Throughout his career, Burt had a nose for the football and ended his career with 10 fumble recoveries.
In addition to his determination on the field, Burt will be remembered always for creating the "Gatorade Bath" that victorious coaches get after an important victory. Burt was widely known for showering the dour Bill Parcells with a bucket of Gatorade throughout his time with the Giants.
Jim Burt was inducted into the Greater Buffalo Sports Hall of Fame in 2011, as well as the University of Miami Sports Hall of Fame in 1998.