New York Giants: 15 best free agent acquisitions of all-time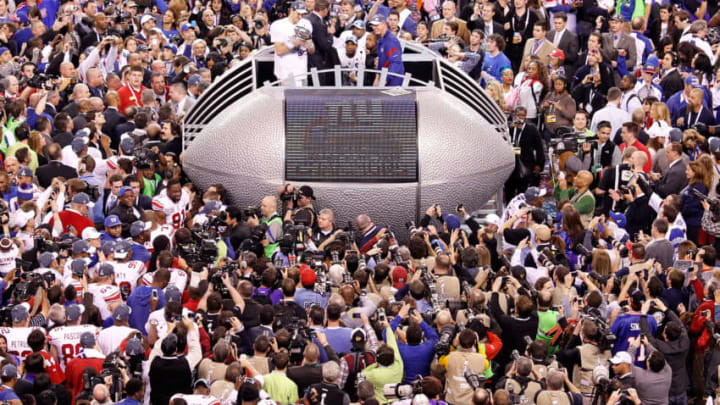 New York Giants. (Photo by Joe Robbins/Getty Images) /
Kawika Mitchell, New York Giants. (Photo by Jonathan Daniel/Getty Images) /
Member of Super Bowl XLII championship team
Two defensive touchdowns for Giants in 2007
Sack of Tom Brady in Super Bowl XLII
Garnered 76 total tackles for Giants in 2007
Former Giants general manager Jerry Reese's success in signing linebacker Kawika Mitchell may have ultimately affected his tenure with Big Blue in an adverse way. Reese inked Mitchell to a one-year, $1 million contract with the Giants, after he spent four seasons with the Kansas City Chiefs.
According to Pro Football Reference, Mitchell garnered 105 and 104 tackles respectively in 2005 and 2006 in Kansas City, yet inexplicably had trouble finding work in 2007.
Adding to the intrigue was the fact that Big Blue already high-priced free agent Antonio Pierce in the fold at middle linebacker. So Mitchell would have to move to the weak side, upon signing with the team. After initial struggles, Mitchell became a force for the Giants defense and ended the season with 76 tackles and 3.5 quarterback sacks.
More importantly, he had one interception and one fumble recovery, both of which he converted into touchdowns. Over his eight-year NFL career, Mitchell returned three turnovers for touchdowns (two fumbles, one interception), and two of the three came in the magical 2007 season.
Reese's flier on Mitchell was pure gold, but it also led the general manager to often try to re-create this serendipity without success year-after-year.
After his championship season, Mitchell cashed in with a five-year, $17.5 million contract with the Buffalo Bills, but was cast away after two seasons. He finished up playing in one game for the New Orleans Saints in 2010. Despite playing just that one season for the Giants, Mitchell was absolute magic in the Meadowlands, which is why he makes our list at No. 12.