New York Giants: 15 best free agent acquisitions of all-time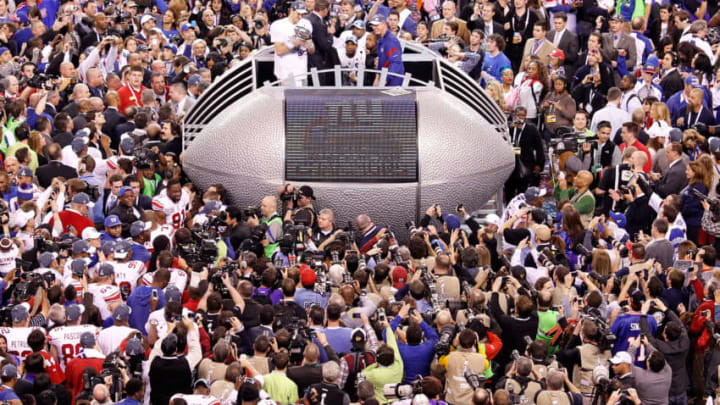 New York Giants. (Photo by Joe Robbins/Getty Images) /
Micheal Barrow, New York Giants. Mandatory Credit: Al Bello /Allsport /
Forced 22 fumbles in his NFL career
Led NFC with 148 total tackles in 2003
Averaged 121 tackles in four seasons with Giants
Became linebackers coach at University of Miami and Seattle Seahawks
The Giants have a checkered history when it comes to signing free agent linebackers, including busts J.T. Thomas, LaVar Arrington, Keith Rivers and Jameel McCain, but former Carolina Panthers star Micheal Barrow was a key addition at the turn of the century.
After becoming a salary cap casualty in Charlotte, Barrow was wooed by then-Giants general manager Ernie Accorsi to come to the Big Apple. The G-Men signed Barrow to a six-year, $24 million contract in 2000, according to the Hartford Courant.
Adding him to a defense that included stars like cornerback Jason Sehorn, linebacker Jessie Armstead and defensive end Michael Strahan elevated Big Blue from a playoff hopeful to a Super Bowl contender.
Barrow was a tackling machine for Big Blue, as he accumulated an incredible 484 tackles in just 62 games, according to Pro Football Reference. From a team standpoint, Barrow's best season was the 2000 squad that lost to the Baltimore Ravens 34-7 in Super Bowl XXV. In the loss, Barrow performed well, notching six tackles on defense.
In what would become his final season at the Meadowlands in 2003, Barrow garnered an incredible 148 tackles, including 14 tackles for loss. As the Giants began to rebuild, Barrow was released after the 2003 NFL season. He played only one more NFL season with the Dallas Cowboys in 2005, as a variety of injuries finally took their toll.
After retirement in 2005, Barrow got into coaching, first at the high school level, and then at his alma mater, the University of Miami. He then spent three seasons as linebackers coach for the Seattle Seahawks before being fired after the 2017 NFL season.