NY Giants rookie Cam Brown blossoming into key special teamer, Joe Judge says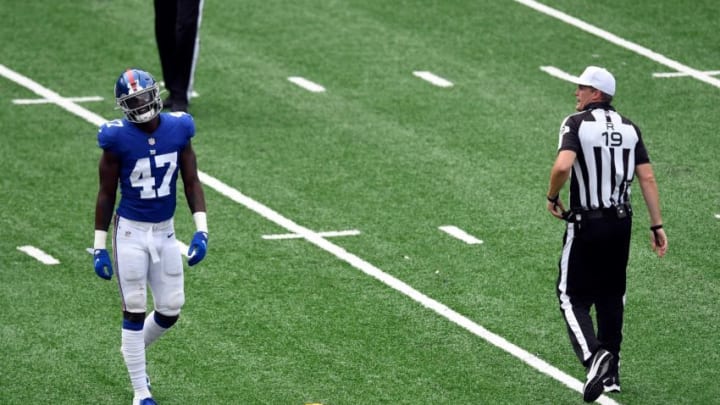 New York Giants linebacker Cam Brown (47) reacts after a penalty is called on the Giants in the second half. The Giants lose to the San Francisco 49ers, 36-9, in an NFL game at MetLife Stadium on Sunday, Sept. 27, 2020, in East Rutherford.Giants 49ers /
NY Giants rookie, and Penn State football alum, Cam Brown could be in line for an expanded role against the Washington Football Team
NY Giants rookie linebacker Cam Brown has already carved out a niche as one of the team's core special teams players, head coach Joe Judge said Wednesday.
"For Cam, he's a guy who's really coming into his own in the kicking game," Judge said. "The one thing about special teams for young players is that it allows them to learn and adjust to the speed of the game and the physicality. That transfers to offense and defense as well."
There's a chance beginning Sunday against the Washington Football Team that Brown will be given the opportunity to play both special teams as well as defense, similarly to another Judge protege from his time with the New England Patriots.
"If this guy can play every snap on defense, and every snap on the kicking game, I have no problem with that," Judge said, of players contributing in both roles. "I've been able to be around some players, I coached Patrick Chung in 2015 and this guy played every snap on defense for us and never came off the field in the kicking game, either.
"If you've got that kind of motor, that kind of energy and can handle that kind of load, we're going to give it to you."
Against Washington, Brown could join fellow rookie Tae Crowder in the linebacker rotation.
Brown has only appeared in two defensive snaps, but his standout special teams performance paves the way for the sixth-round pick out of Penn State to be in the mix for an expanded role beginning this week with Lorenzo Carter lost for the season with a ruptured Achilles tendon.
"He's had some great exposure through the first five weeks," Judge said of Brown. "He's seen some fast-paced ball in front of him. That should help him on defense. We're practice him this week, and we'll see where it leads us by the gameplan."
Matt Lombardo is the site expert for GMenHQ, and writes Between The Hash Marks each Wednesday for FanSided. Follow Matt on Twitter: @MattLombardoNFL.