NY Giants studs and duds vs. Washington: Logan Ryan delivers, OL struggles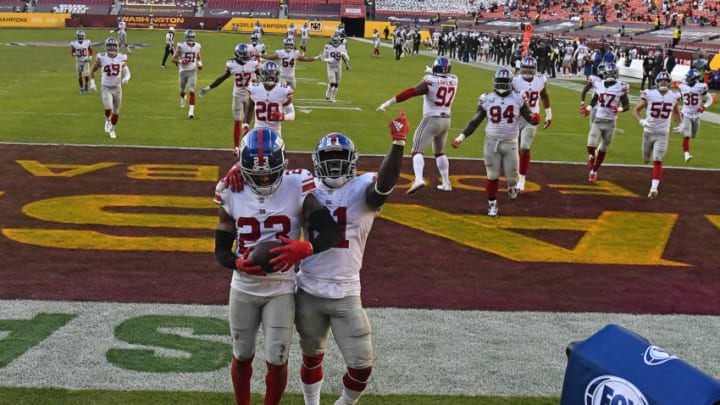 Nov 8, 2020; Landover, Maryland, USA; New York Giants cornerback Logan Ryan (23) celebrates with safety Jabrill Peppers (21) after an interception against the Washington Football Team during the second half at FedExField. Mandatory Credit: Brad Mills-USA TODAY Sports /
Logan Ryan and Daniel Jones offered up two of the most impactful performances of NY Giants' 23-20 win over the Washington Football Team.
It was only fitting that NY Giants defensive back Logan Ryan sealed Sunday's 23-20 victory over the Washington Football Team with an interception off quarterback Alex Smith, after the harrowing week Ryan and his family wet through.
Ryan revealed last week that the Giants' medical staff might have saved his wife's life, when trainer Justin Maher convinced her to seek treatment when she was complaining of abdominal pain and it was discovered she had an ectopic pregnancy.
Sunday afternoon, Ryan dedicated his performance to her, and carried his team across the finish line.
"It was an extremely emotional week," Ryan said. "I was extremely grateful to the organization, and to my wife, she's a fighter, to not lose her in that situation was very fortunate.
"My wife and I mourn silent four our child, although it was a great story, it was en emotional game for us. That game was definitely for my wife. I had her name written on my cleats. That ball is for her. She told me to bring one home for her, and I did that."
Ryan didn't just bring back the game ball for his wife, Ashley, much more insignificantly he brought back a Giants division victory when he intercepted Smith that allowed the Giants' offense to kneel down the game.
The interception came off a play that was a last-minute addition to the Giants' defensive game plan.
"That play that I ran, is something I Talked ot Patrick Graham about, to put me in a position to make that play," Ryan said. "It was a two-minute play we put in Saturday night, a few hours before the game."
Ryan finished with six tackles, two pass breakups, and one forced fumble on what was certainly a monumental weekend for the veteran defensive back and his family.
Scroll through for a look at the Giants' studs, in addition to Ryan, and duds from a 23-20 win at FedExField