Stop comparing NY Giants' Daniel Jones to Dwayne Haskins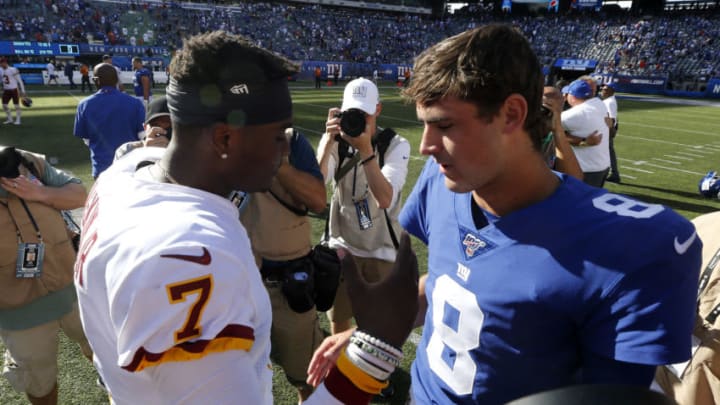 Daniel Jones #8 of the New York Giants. (Photo by Jim McIsaac/Getty Images) /
Dwayne Haskins' release this week does not mean the Giants were right to take Daniel Jones.
Twitter was rampant on Monday with people giving their "I told you so" or "I was wrong" for the NY Giants' selection of Daniel Jones over Dwayne Haskins.
But Haskins being released does not in and of itself make Jones a good pick.
While the hindsight shows Giants' general manager Dave Gettleman was smart to listen to the whispers about Haskins', it still remains to be seen if he was right in picking Jones — especially as high as he did.
The Giants had three first round picks in 2019: Jones at number six; Dexter Lawrence at 17; DeAndre Baker at 30. Of those three, one is no longer on the Giants, another established himself as a staple for the team moving forward, and the jury is still out on the one who plays the most important position.
It's hard for a Giants fan to take the high road on Washington's release of Haskins, especially when it took less time for one of the Giants first rounders from that year to be released from New York.
And while you can compare Jones and Haskins to say Jones is the better alternative, it doesn't make him a "good" selection. Comparing the two misses the biggest criticism of selecting Jones: there were only five players selected before him, which means just about everyone was still available.
The Giants had too many holes to count going into the 2019 draft. They were 17th in offense the year before, and 24th in defense. Eli Manning continued to show signs of wear, but his play was no worse than what came after, and Manning's contemporaries continue to bring their teams to the playoffs.
The selection of Jones pushed Manning into retirement. It's impossible to know if the team would be any better with him at the helm this season, especially since his cleats were made with cement.
But no one gave Gettleman an ultimatum and said you MUST select a quarterback with the sixth overall pick in a defensive-heavy draft year.
Further, they completely wasted the 30th pick of the first round on DeAndre Baker that could have otherwise given their rookie quarterback a new weapon, such as wide receivers A.J. Brown and D.K. Metcalf, who were both selected in the second round.
So instead of comparing two poor quarterbacks from a bad QB draft class, let's see just some of the players the Giants talent personnel missed out on from the first round of 2019.