NY Giants: Top 10 running backs of all time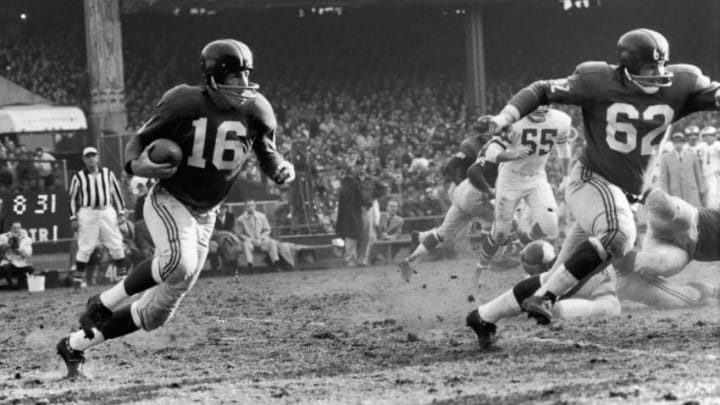 New York Giants football player Frank Gifford (#16) runs with protection from teammate Darrell Dess (#62) during a game against the Philadelphia Eagles, 1960s. (Photo by Robert Riger/Getty Images) /
NY Giants' running back, Saquon Barkley, knows about the legends that came before him – and that's why he's so proud to wear the NY Giants' uniform.
Bulldogs, speedsters and semi-trucks – the legendary running backs in Giants' history have come in all shapes and sizes. It hasn't stopped them from being successful – winning championships and making a name for themselves.
Injuries have dampened Barkley's early years, but if he can return to form there's no telling how high he can climb. Until then, the generational talent will continue to be motivated by those that came before him.
Here are the top 10 running backs in NY Giants' history:
10) Doug Kotar
Years: 1974-1981
Legacy: Went from undrafted free agent to one of the best running backs in NY Giants' history
Height doesn't measure heart – that should've been plastered right on Doug Kotar's forehead.
He was never the biggest, fastest or strongest – but good luck bringing him down. Kotar helped pace the NY Giants' offense through their dark years, rushing for 3380 yards while wearing Giants' blue.
Perhaps the best way to describe him was said by Giants' legend, Harry Carson – who called him 'a fighter you'd like to have with you in a foxhole'.