NY Giants: Top 10 running backs of all time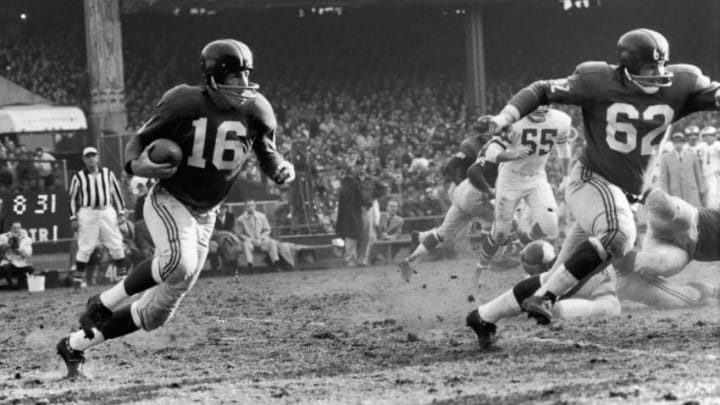 New York Giants football player Frank Gifford (#16) runs with protection from teammate Darrell Dess (#62) during a game against the Philadelphia Eagles, 1960s. (Photo by Robert Riger/Getty Images) /
Running back Tiki Barber #21 of the New York Giants  (Photo by Michael J. Minardi/Getty Images) /
The Best: Tiki Barber
Years: 1997-2006
Legacy: Three-time Pro Bowl (2004-2006); First-team All-Pro (2005); NY Giants' Rushing Leader
10,449 yards, 55 touchdowns and first place by a mile on the NY Giants' All-Time leaderboard – Tiki Barber is the best running-back in team history.
After originally expected to be a back that would split-time, Barber became one of the forces of the entire league. He was dangerous as anyone, and entrenched firmly in the conversation for the best running-back in the league during his prime.
While his sudden retirement and subsequent comments have hurt his standing with fans in the years following, we shouldn't forget his contributions to the team that have withstood the test of time. Saquon Barkley may be the best running-back the Giants have had since, but even he may never reach the heights Barber has.