The Worst and Best from NY Giants Opener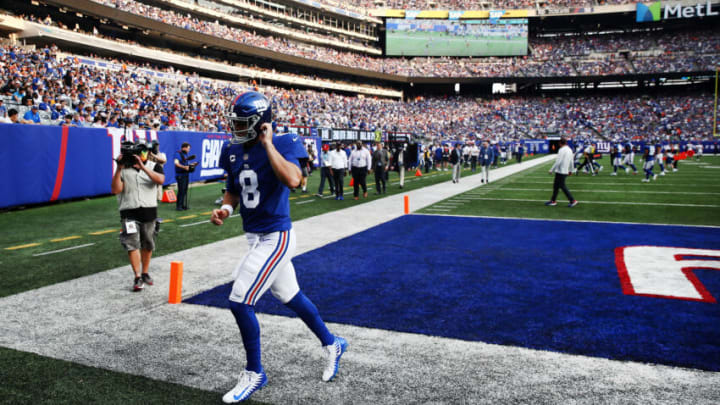 EAST RUTHERFORD, NEW JERSEY - SEPTEMBER 12: Daniel Jones #8 of the New York Giants runs off the field at halftime against the Denver Broncos at MetLife Stadium on September 12, 2021 in East Rutherford, New Jersey. (Photo by Tim Nwachukwu/Getty Images) /
It was another dreadful opening day for the NY Giants as they dropped the game 27-13 to the Denver Broncos.
The game was terrible in all aspects and it's hard to find some positives but we will do.
The negatives certainly outweighed the positives once again however. The NY Giants offense was a problem last year and it continued to be a problem this year as well.
We will start with the negatives because they outweighed the positives in such a big way. The NY Giants scored 13 points, the Broncos won the time of possession battle and the defense couldn't get off the field. The Broncos went 7 for 15 on third down against the NY Giants defense. They also converted a huge 4&1 play to score a touchdown. The NY Giants looked like they had Teddy Bridgewater sacked but he escaped and got a pass off and the Giants missed the tackle and it turned into a Broncos touchdown.
Another issue for the NY Giants was the running game. Whenever your quarterback is the leading rusher the running back position was probably a non factor. It should be considered a positive that Saquon Barkley looked healthy but the offensive line gave him no holes or running lanes whatsoever. Barkley averaged 2.6 yards per carry on his 10 carries.
Daniel Jones played fairly well but his old turnover issues cropped back up. The NY Giants we're driving down 17-7 and Jones fumbled on a scramble. Jones leads the NFL in turnovers since 2019. The biggest issue with the NY Giants was the play calling. The NY Giants offensive line continues to be an issue.
Jason Garrett continues to be extremely basic and conservative. In the modern NFL you can not call a run play on a 2&16. You are essentially giving up on the drive. Garrett completely abandoned rookie Kadarius Toney after a negative play early. Garrett continues to play away from Jones biggest strengths, which are rpo and downfield passes. Despite Daniel Jones hitting on most of his deep balls, Garrett didn't call many. Garrets play calling in the red zone was abysmal. It's hard to have faith in Jason Garrett as a offensive coordinator.
There aren't many but a few positives from today was despite having a bad game Saquon Barkley looked healthy and he's back. Sterling Shepard had a big day for the NY Giants as he went off catching 7 passes for 113 yards and a touchdown. Kenny Golladay appeared to be healthy as he made some terrific contested catches. Despite the fumble that everyone talked about Daniel Jones had a solid game. Jones went 22/37 with a touchdown pass, 27 yards rushing and a rush touchdown. Jones had a solid rating of 90.7. Despite a solid game the fumble was at a terrible time and it just can't happen anymore if Jones is going to be successful.
It was a terrible opening day once again for the NY Giants. They will have to regroup quick because they face a rough Washington team on the road in a short week on Thursday night. Things can get ugly for the NY Giants fast and they need to stop that from happening.