Fans issue multi-billion dollar lawsuit for NY Giants to change name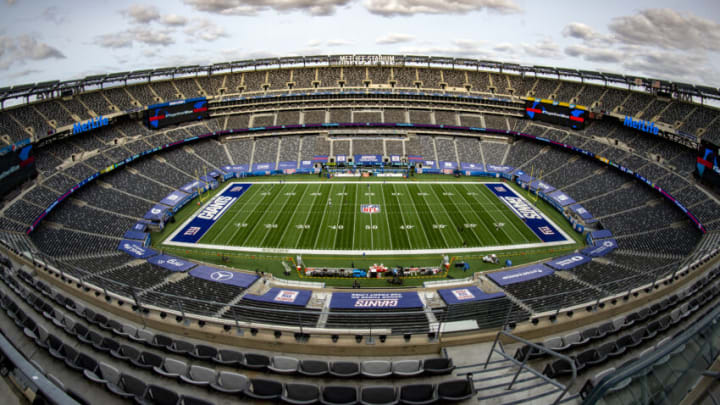 EAST RUTHERFORD, NJ - SEPTEMBER 14: A general wide view of the field ahead of a game between the New York Giants and Pittsburgh Steelers at MetLife Stadium on September 14, 2020 in East Rutherford, New Jersey. (Photo by Benjamin Solomon/Getty Images) /
The New York-New Jersey rivalry isn't limited to what you've seen on The Sopranos in the past, football fans. While it's a simple drive or train ride across the river to get from New York to Jersey, it looks like not everyone is on board with the NY Giants playing their home games over in East Rutherford. Just ask a pair of fans about that.
Per a report, two people have filed a $6 billion lawsuit to have the NY Giants remove New York from their name because the team indeed plays its home contests in East Rutherford, N.J. The lawsuit had originally been filed to have the team move over to New York by 2025 according to CBS, but things have since been changed to this latest update. Goodness.
Fans want both the Giants and Jets to have New York removed from their names
It's not just the Giants who have been highlighted in this lawsuit, though, as these fans are also calling for the Jets to have New York removed from their organization as well. There's New York passion and then there's this. First-round pick Evan Neal recently admitted he had no idea the Giants played their games in New Jersey. Perhaps this gave the two fans even more reason to move forward with their suit.
If you're not from the area, the trip from Manhattan to East Rutherford couldn't be easier. You just head to Penn Station and can get to the stadium in about 30-45 minutes. Some might argue it's easier to get to MetLife from midtown than it is to get to the Bronx to watch a Yankees game in the summer. Have fun catching the 4 train at Union Square, folks.
Regardless of that, these two Giants/Jets followers think it's 'false advertising' to have New York part of the teams' names. Countless people could care less, while others think it's a massive deal. So much in fact, a $6 billion lawsuit has been filed. Who knows if anything will come from this, but the fact that this specific lawsuit is now a major story is enough to raise plenty of eyebrows.