A big win means a New York Giants bobblehead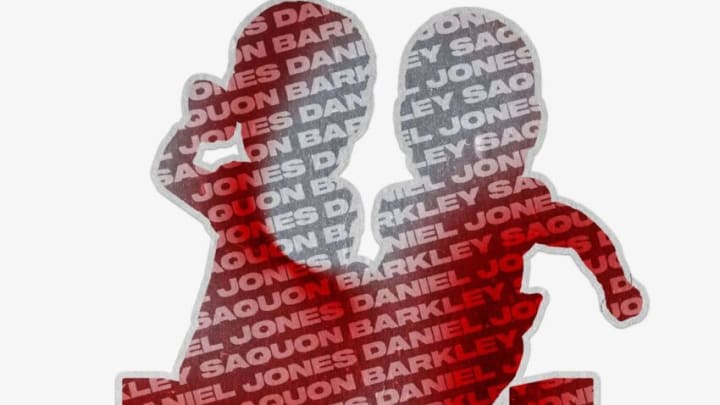 FOCO /
It feels like we're entering a new era of Giants football. New York marched into Minnesota and defeated the Vikings 31-24. It was the first playoff victory for Daniel Jones and Saquon Barkley, which is why you need this new, limited-edition New York Giants bobblehead.
Available exclusively at FOCO, only 72 of these dual bobbleheads are being produced. So if you want one – and let's be real, you want one – you need to act quickly.
FOCO /
These will begin shipping in July. I know it isn't much to look at right now, but don't worry. FOCO creates hand-painted masterpiece collectibles.
They aren't cheap for a reason. Because these aren't the sort of janky quality of a freebie at the stadium. These are something any fan would be proud to display.
Below, you can find some addition item details… and keep reading for a brand new t-shirt from BreakingT.
"They may be G-Men, but this dynamic duo was in the zone to secure a playoff W. Celebrate with the foremen of the Big Blue Wrecking Crew by adding this Daniel Jones & Saquon Barkley New York Giants First Playoff Win Dual Bobblehead to your fancave."
Portrays Jones and Barkley wearing their gameday uniforms in action poses, ready to make some more big plays for Big Blue
Thematic backdrop with BIG BLUE IS BACK text display to celebrate the G-Men's return to playoff glory
Pillar accents on base with team logo displays, jersey number displays, and name displays so everyone knows who the faces of your franchise are
Text displays on front of base showcasing Jones' and Barkley's stats from the Giants' Wild Card Round victory, and the numbers never lie
Wordmark team name and team logo display on front of base, in case there were any doubts where your allegiances lie
Commemorative accent on front of base with 1ST PLAYOFF WIN SINCE 2012, JANUARY 15TH, 2023, and game score text displays so you'll never forget that epic win
Football field top of base so you're always ready to hit the gridiron
Handcrafted
Don't wait. Check out FOCO today. 
BUT WAIT – THERE'S MORE!
BreakingT has a shirt that every New York Giants fans will love. Take a look below.
BreakingT /
Make sure you don't miss New York's looming matchup with Philadelphia. Sign up for fuboTV to watch the rest of the NFL Playoffs. Cancel anytime, no strings attached. 
This post contains affiliate links, where we may receive a percentage of any sale made from the links on this page. Prices and availability are accurate as of the time of publication.