NY Giants Daniel Jones' rookie season better than other New York QB's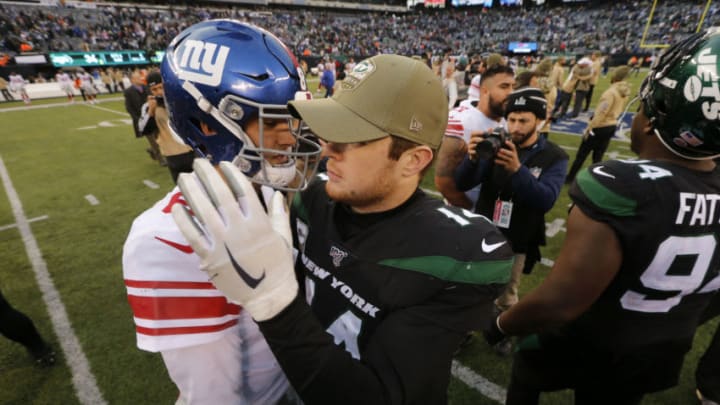 Daniel Jones and Sam Darnold(Photo by Jim McIsaac/Getty Images) /
All three starting New York QBs were drafted within two seasons of each other, cementing comparisons as they develop. The NY Giants' Daniel Jones just may turn out to be the best of them.
New York football has a rich history of star-caliber quarterbacks. From Joe Namath to Jim Kelley to the NY Giants' Eli Manning, the current franchise faces of New York have raised the standard of play and the expectations from fans.
It helps explain why the recent crop of quarterbacks here was quickly labeled "franchise" quarterbacks before they had any time to develop for or transition to the NFL.
All three New York starters, Josh Allen of the Bills, Sam Darnold of the Jets, and Daniel Jones of the NY Giants, have shown enough promise to warrant the labels. But Jones' rookie seasons stood out among the three.
And, to help combat his 2019 fumbling issues that were his main issue, he'll now have Andrew Thomas protecting his blindside while the sophomore QB has significantly bulked up heading into year two.
Both Allen and Darnold were drafted in 2018. Both played the majority of the season, but not the entire season. Allen started in 11 games while Darnold started 13. Allen eked out more wins than did Darnold, whose records were 5-6 and 4-9, respectively.
With two more games started than Allen, Darnold owns the higher numbers as a rookie. His 239 completions and completion percentage of 57.7% were higher than Allen's.
He threw for more touchdowns (17 vs. Allen's 10) and yards (2865 vs. 2074). And, Darnold threw more yards per game (220 vs. 174) and had a higher QB rating (77.6 vs. 67.9).
The only stats in their rookie seasons that leaned in Allen's favor were interceptions and sacks. Darnold threw three more interceptions and was sacked twice more than the Buffalo signal-caller.
Though the Jets and the Bills had drastically different seasons in the second year under these two starters (Jets went 7-9 while the Bills went 10-6 and played in the Wild Card), the stats themselves were almost identical, though Darnold did miss three games due to illness.
Darnold led slightly in completions (273 vs. 271) and completion percentage (61.9 vs 58.8). But Allen led in yards (3089 vs. 3024), touchdowns (20 vs. 19), and QB rating (85.3 vs. 84.3).
How does the NY Giants' Daniel Jones Compare?
Daniel Jones' numbers in his rookie season align more with the sophomore seasons of Sam Darnold and Josh Allen and blow their rookie season efforts out of the water.
Jones started 12 games of his rookie season, only winning three of them. But by all other metrics, his numbers show more promise than the numbers from Darnold's and Allen's rookie season.
Jones completed 284 passes as a rookie, more than either of the other two completed in any of their seasons. His completion percentage of 61.9% is tied with Darnold's second-season percentage for the highest of the three across all seasons.
Further, Jones threw 24 touchdowns in his rookie season, which is more than either Darnold or Allen have thrown in either of their two seasons. That numbers also just 2 touchdowns off the NFL rookie passing TD record even though he only started those 12 games.
Jones' 232.8 yards per game and his rating of 87.7% are equally the highest among all seasons of his peers.
There is no substitution for winning in football, and Jones has yet to prove that he can rally and lead a team to victory like his predecessor Eli Manning showed. However, it was a tall ask just to be able to play a competent quarterback as Jones did in 2019, let alone carry a terrible team to the playoffs.
But Daniel Jones' numbers are already ahead of those produced in the second year by other NY quarterbacks.
If Jones takes the modest steps forward that Allen and Darnold did, his success in winning, just as theirs did, will certainly follow.
If nothing else, NY Giants fans have a young quarterback to rally around and draw hope from which is a big step forward in this rebuild.