What pieces should New York Giants add to James Bettcher's defense?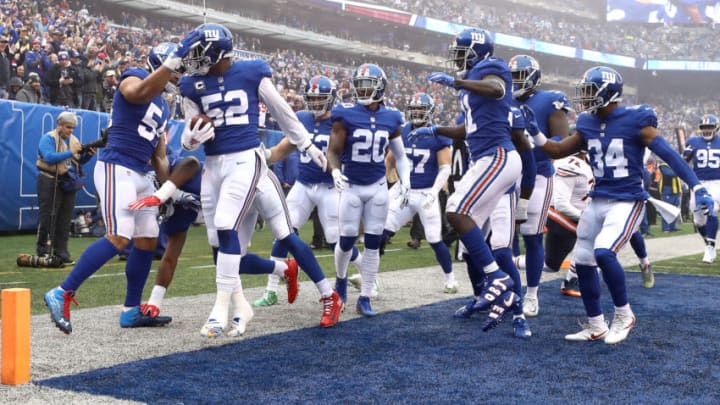 EAST RUTHERFORD, NEW JERSEY - DECEMBER 02: Alec Ogletree #52 of the New York Giants is congratulated by his teammates after intercepting the ball for a first-quarter touchdown against the Chicago Bears at MetLife Stadium on December 02, 2018 in East Rutherford, New Jersey. (Photo by Al Bello/Getty Images) /
Much was made of the New York Giants changeover from a 4-3 defensive scheme to a 3-4 last season.
After reviewing game film, the heated discussions about dramatic scheme shift for the New York Giants were largely symbolic. Coordinator James Bettcher incorporates many 4-3 tendencies into his scheme, so it should be viewed as a hybrid, instead of being pigeonholed into something it's not.
Conversely, this isn't your father's old 3-4 defense that fans saw under legendary coach Bill Parcells either. I'd love to hear other commentary about my observations about Bettcher's scheme, as long as the dialogue remains positive and represents an exchange of ideas.
In order for this discussion to move forward, however, let's go under the assumption that Big Blue hangs onto both linebacker Olivier Vernon and cornerback Janoris Jenkins.
Agreed that neither guy played up to snuff in 2018, but having both guys around makes a defensive resurgence very doable in 2019. The same wish goes for free agent safety Landon Collins, but his return comes with a couple of big time caveats.
First, the New York Giants cannot break the bank for a safety with a somewhat limited skill-set. In fact, Big Blue should monitor unrestricted free agent Adrian Amos (Chicago Bears) as well. He may actually be a better option than Collins on a long-term deal.
As it is, assume Collins returns to the New York Giants, what are the gaping holes that need to be filled?
Well, the team's 30th ranked pass rush certainly could use some help. But can that help come from internal sources, like a greater role for outside linebacker Lorenzo Carter and a healthy Olivier Vernon?
A pass rush specialist couldn't hurt, and perhaps because of the quarterback machinations, Josh Allen (Kentucky) falls to the G-Men. Rashan Gary of Michigan would appear to be another option if Big Blue stays at No. 6 in the draft.
(Photo by Gregory Shamus/Getty Images) /
In terms of the 0-6 techniques, the current rotation of B.J. Hill, Dalvin Tomlinson, B.J. McIntosh and Josh Mauro seems solid. The Giants would have to re-sign Mauro, who performed well after his suspension.
As for the linebackers, with OV on one side, and Carter on the other, is there a need for Kareem Martin?
In any event, Martin or no Martin, Big Blue has to improve its depth at linebacker, even with both B.J. Goodson and Alec Ogletree back. Reserve Tae Davis was simply a stopgap defender, and Nate Stupar is largely a special teams role player.
More from GMEN HQ
Let's put in an order for a coverage linebacker with solid tackling skills. Target the middle rounds of the draft for acquiring one, but also keep in mind deffensive rookie-of-the-year Darius Leonard (Indianapolis Colts) was the No. 36 overall selection in 2018.
Finally, I think the real breakdown on Bettcher's defense last season came from the defensive backfield. That should be no surprise to anyone, given that the position was populated by the likes of Curtis Riley (free safety), B.W. Webb (slot cornerback) and for a time, Eli Apple (cornerback).
Now, keeping Jenkins to pair with supplemental draft pick Sam Beal (Central Michigan) gives the Giants a foundational base at least.
Undrafted free agent rookie Grant Haley showed promise, delivering a solid 69.3 Pro Football Focus grade (70.5 in coverage). He deserves another full training camp, but cornerbacks are also a valued commodity. Gettleman should also bring in at least a couple draft picks to compete at the position.
Finally at safety, here's another place where the rubber hits the road. Do the New York Giants re-sign Landon Collins to a multi-year deal? He's coming off shoulder surgery and positionally, he's an in-the-box strong safety.
Both Ha Ha Clinton-Dix (Washington Redskins) and Adrian Amos (Chicago Bears) are pending unrestricted free agents. Both the Bears and Redskins are in worse salary cap shape than the New York Giants too.
The free agent market for safeties has typically been a buyer's market, so a reasonable maybe had.
As far as the free agent market for other positions, outside of Collins, I can't see any major activity. The team's unsettled quarterback situation means that a large chuck of money has to be dedicated once again toward the offense.
If the Giants get to have one premium defensive signing, my vote is for Tyrann Mathieu to fill in the free safety position. There are multiple benefits to doing this. First, he knows, and more importantly, thrived in Bettcher's defense with the Arizona Cardinals. Secondly, he brings swagger to a defense that lacked an identity in 2018.
The Giants could opt to roll the dice in the 2019 NFL Draft for a free safety. That talent pool appears to be very limited. One name to keep in mind is Nassir Adderley (Delaware). He could be the G-Men's Day 2 target with their second-round selection (No. 38 overall).